Section II
How Does Tourism Function?
Two functions of tourism most understood are promotion and accommodations. The first action frequently taken by communities embarking on a tourism development program is to raise money for promotion. The most conspicuous evidence of tourism in any community is the lodging facilities. Tourism, however, encompasses more than just promotion and accommodations, even as essential as they are. This section looks at five important topics that provide a foundation for understanding, considering, and building tourism in your community. These topics are:
1. the market-destination principle
2. understanding and identifying target markets: the reasons people travel
3. components of successful leisure destinations: what your community has to offer people
4. the tourism system: the link between markets and destinations
5. conditions for effective tourism development
The Market-Destination Principle
All businesses have two important dimensions, markets, and products. This is certainly true, in principle, for tourism. Tourism differs, however, from industries such as manufacturing, because tourism moves markets to products, whereas manufacturing distributes its products to markets (see Figure1). This means that the "production," marketing and consumption of tourism are inseparable from each other or from the destination.
• Tourism products are found in destinations (areas containing the attractions and services that provide tourism experiences and benefits to visitors). The product of tourism is the "experience package." It has been described as a mix of products and services.
• Travel markets represent those people willing and able to spend their time and money to receive those common experiences and benefits.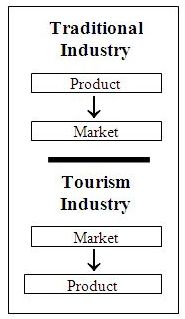 Understanding And Identifying Target Markets
Unless markets (the consumers) know about the tourism products you have available, they will not make your community their travel destination. In addition, a community and its surrounding area must offer tourism attractions and services (products) that are in demand by a travel market. No amount of promotion will attract disinterested visitors. For this reason, those concerned with developing tourism must become very knowledgeable about the basic tourist flow and its two dimensions (the characteristics of their community that make it a unique and desirable place to visit, and those travel markets to which they can best appeal).
It is impossible for your community to be all things to all tourists. Successful tourism development depends upon aiming your efforts at target markets, which is, taking a rifle approach rather than a shotgun approach. A rifle approach increases chance of scoring a direct hit, that is, being a great success with particular target markets. One of the best ways to develop and market your tourism destination is to appeal to specific market segments and target markets. The objective is to focus only on the needs and preferences sought by an identifiable set of visitors. Remember that there are many motivations to travel each representing an individual market. For example:
• to visit friends and family
• to conduct business in another town
• to attend conventions, festivals and special events
• to attend to personal needs, such as that related to health
• to go shopping
• to engage in outdoor recreation activities
• to experience places of historical or scenic value
Market Segmentation
As this list suggests, people travel for many different reasons. These different groups are called market segments. Market segmentation, the process of breaking the total travel market into smaller, more uniform groups, is one of the basic principles of tourism development and marketing. It recognizes that both business and pleasure travel markets have several separate segments, each with a unique set of needs and preferences.
How do you divide your market into segments? One common method is by geographic areas. In other words, where do your visitors come from? What cities, states, regions, or countries generate the greatest number of visitors?
A recent study of the Coastal Bend region (Corpus Christi, Rockport, and Aransas Pass13) conducted by the Texas Department of Economic Development revealed that visitors came from the following geographic and seasonal segments:
ORIGIN OF VISITOR

ALL TEXAS VISITORS

(%)

GULF COAST VISITORS ONLY

(%)

Dallas/Fort Worth, TX

15

14

Houston, TX

14

15

San Antonio,TX

6

5

Austin, TX

5

5

New Orleans, LA

1

2

New York, NY

1

2

Oklahoma City, OK

2

2

Los Angeles, CA

2

2

Other

12

22
By defining markets into segments one can better understand whom, when, how, and why people travel to your community. Without further definition, this data reveals little more than a clue for developing tourism. For this reason, it is necessary to identify other ways to further define markets into segments. In total, there are seven general approaches you can use:
1.purpose of trip
2.geographic origin of visitors
3.socio-economic or demographic characteristics
4.product-related
5.psychographic profiles
6.frequency and seasonality of use
7.channels of distribution
Each of these segmentation methods are further defined in Table 6 (Section IV). By combining these methods, you can more accurately begin to zero-in on your community's target markets. In the Coastal Bend example, each of the geographic markets (San Antonio, Houston, Dallas/Ft. Worth) were further described by: time of year for trips, amount of expenditures, frequency of visits, accommodation types, trip characteristics (length of stay, etc.), outdoor recreation activities, and demographics (ethnicity, income, age, gender, etc.)
While these descriptions help to identify the many types of tourists that are important to your area, they do not sufficiently explain what pushes or motivates people to engage in travel in the first place. An understanding of those motivations that tourists wish to satisfy through travel is critical to the development and marketing of any tourism destination.
The key to understanding tourists' motivations is to see travel as a satisfier of needs and wants. These needs and wants refer to much deeper personal concerns than the reasons usually given by people when asked, "Why do you travel?" For example, tourists do not take trips just to engage in recreational activities such as fishing. They take such trips with the hope that the travel experience will provide an escape from routine, physical relaxation, and perhaps the opportunity to make new friendships.
Why is it important to understand motivations such as these? Once you understand tourists needs and wants your community will be better prepared to satisfy them. Segmenting travel markets, as described above, provides a means of zeroing in on specific needs and wants.
Motivations For Pleasure Travel
The primary motive that drives all pleasure travel is the need for change.14 This often means the need to escape the routine, to explore new environments and to enjoy novel situations. Beyond this primary motive, people are pushed to travel by a variety of needs and wants. If motivations were the same for everyone, many of us would travel to the same destinations, do the same things, stay at the same types of hotels, and use the same kinds of transportation. Since this is not the case, differences in motivation help to define distinct travel markets to which different tourism destinations can be marketed.
The following are some common motivations for travel. Most travel is driven by the need to satisfy a combination of needs and wants, some of which may not be recognized by travelers themselves. As you read through this list, consider which combinations of motivations your community could easily and effectively satisfy.
Escape from Routine and Responsibility: While a temporary change in environment characterizes all travel, people often seek changes of other kinds. These may include a change in daily routine, a change in social group, or a change in leisure or work activities.
Relaxation: In everyday life, the term relaxation usually means physical rest. In a tourism context, however, relaxation often means taking time to pursue activities of interest. For tourists, engaging in physical activities often results in mental relaxation.
Regression: When people are comfortable they often feel freer to engage in behavior that they may not participate in at home. Hence, the need to "regress" or do things outside of everyday life drives some to travel.
Status and Prestige: Many people travel for recognition, attention, and appreciation. Certainly some destinations are more prestigious than others are and these will attract those tourists for whom status is a primary motive.
Family and Friend Togetherness: Family and friend considerations are an important travel motivation. The majority of all trips are taken to visit with family and friends in their home communities. Besides these visits, many people see the opportunity to travel and vacation as a family or friend group as a way to bring members closer together.
Meet New People: The desire to meet new people are satisfied by people-oriented trips, as opposed to place-oriented. Meeting new people means different things to different individuals. It can mean briefly meeting people from different backgrounds (something that occurs more easily while away from home), developing permanent new friendships, or interacting with local people.
Self-Discovery: Many people find that travel experiences help them to learn more about themselves. When traveling, people have the opportunity to learn how they react to new situations, such as meeting new people, overcoming hardships, and observing different cultures.
Education: A strong motive for travel is the desire to learn about a place, a historical period, or another culture. The education that travels provide is seen by many as a means for developing a well-rounded individual. For this reason, family travel is often undertaken for educational purposes (as well as the motive of family togetherness discussed earlier).
Novelty: The need for novelty refers to curiosity, adventure, and the need to experience things that are new and different. People who are driven to travel primarily by this motive rarely visit the same destination twice. While this market may not yield a high degree of return visitation to a destination, its members are likely to spend sufficient time and money to thoroughly explore all that it has to offer.
In addition to these motivations for travel, there are numerous other factors influencing a tourist's decision making process. Many tourists or traveling groups seek multiple benefits. For example, a traditional family (mother, father, and two children) will "package" their weekend trip to Houston to include activities that appeal to each family member. Thus, their excursion may include a variety of dissimilar activities such as visiting a professional sporting event, a theme park, the space center, and a major shopping mall all under the auspices of visiting Aunt Millie and Uncle Bert. What is important for tourism planners to remember is that although consumer behavior in the travel industry is indeed very complex, one should always seek to learn more about it and to better understand the visitor.
Components Of Successful Leisure Destinations
As already shown, tourism is much like other industries in that its two basic dimensions are markets and products. Tourism differs from many industries however, because it moves markets to products. The movement of tourist markets to destinations (where tourism products are found) can be thought of as a push-pull relationship. People are pushed to travel by motivations; that is, the need to satisfy needs and wants. Destinations that promise to satisfy them pull these tourists to them.
As with other industries, members of tourist markets spend their time and money to receive certain products. Many businesses and community residents see their tourism product only as attractions, meals, accommodations, or recreational facilities. In fact, how these tangible things help to satisfy tourists' needs and wants is important.
The tourism product is the mixture of benefits (i.e. need and want satisfiers) produced by a destination that tourists rightly or wrongly believe they will receive when they choose to visit it. For example, visitors to Aquarena Springs in San Marcos buy the boat rides, meals, and accommodations they receive. But these are only necessary to satisfy their desire for fun and novelty in the area's unique water environment. Effective promotional efforts will be those that stress the opportunity for fun and novelty. Effective management of tourist areas will ensure that the visitor has fun and enjoys novelty by providing activities, services, and information in a pleasant environment.
From the visitors' point of view, your community consists of many different elements that all together provide a tourism experience. These elements include attractions, services and atmosphere, which must be seen through the eyes of the visitor. The atmosphere of your community is influenced by the quality of its physical environment and the hospitality that resident hosts extend toward their visiting guests. Look at each of these important elements in greater detail.
Attractions
While the desire to satisfy individual needs and wants pushes people to travel, attractions are what pull them to one destination instead of another. Attractions are the core component of a destination area. They satisfy demand in a destination and help to distinguish a place as an outdoor recreation destination; historic attractions help to distinguish a place as a cultural destination.
Tourism attractions that may significantly impact a community may be found within as well as outside its environs. For example, a state park that is located outside but nearby a community may generate a great deal of tourism activity within the community itself. Attractions that may be important to different travel markets include the following:
Natural Attractions: lakes, forests, parks, beaches, and a warm and sunny climate. These attractions often appeal to markets seeking outdoor recreation.
Man-Made Attractions: theme parks, well-known restaurants, a string of antique shops, and a modern factory tour.
Historic Attractions: battle sites, old forts, historic museums and monuments, pioneer churches, and homes of famous persons.
Ethnic and Cultural Attractions: historic re-enactments, ethnic communities, Indian villages, and "Old West" towns. These attractions give tourists the opportunity to view the customs of another time or culture.
Special Events: home tours, music festivals, craft events, antique shows, sports events, and agricultural celebrations. These are usually built around a community theme, entertaining, educating, and often allowing visitor participation.
Family and Friends: local population can be one of the most important attractors to your community. Travel to visit family and friends accounts for the majority of all personal travel.
Business and Medical Services and Government Offices: These services all attract visitors to communities. Many tourists will be pulled to a town because of its food and lodging services. Others will travel specifically to conduct personal, government, or corporate business.
Services
Services are support elements in the tourism system. Once attractions have pulled tourists to a destination area, services meet their needs. Services are administered by commercial and public sectors. The commercial sector includes businesses that provide lodging, food, and beverage services, local transportation, service stations, entertainment, and shopping. The public sector services include police and fire protection, transportation, utilities, visitor services, and the provision of public recreation programs and park facilities. Services are a very important part of the tourism product from both the visitors and community's viewpoint.
• From the visitors' perspective, services meet their need for relaxation and comfort.
• From the community's viewpoint, commercial services generate spending by tourists and are primarily responsible for tourism's economic impact.
• Services and attractions are tightly linked because the services support tourists' needs as generated by attractions. For example, expenditures by tourists at hotels, restaurants, and service stations generally cannot be expected to increase unless the quantity and/or quality of attractions is improved. Likewise, insufficient or poor quality services will detract from the overall tourists' experience in the area, and it is unlikely they will return to the attraction or encourage others to visit in the future.
Atmosphere
Attractions and services are the tangible elements of a destination area. Less visible but equally important is the atmosphere that surrounds attractions and services. This atmosphere or ambiance is what conveys a positive friendly feeling to visitors, and influences them to spend their hard-earned money and free time in the area. Three things contribute to a community's atmosphere: environmental quality, hospitality, and quality and value.
Environmental Quality: refers to the physical environment. This environment includes parts of what might be considered a community's infrastructure, such as roads, sidewalks, signs, parking facilities, convenient access, litter and trash management, parks, and open space. Downtown redevelopment efforts, Main Street programs, historic preservation, and community beautification make important contributions to a desirable tourism environment. The more attractive and accommodating a community's physical environment (beginning with the important "entrance experience"), the more likely it will be that tourists will have a satisfying visit.
Hospitality: refers to the human environment. Visitors to tourist destinations are greatly impacted by the friendliness of local populations. Hospitality says to tourists, "Welcome, we're proud of our community and would like to share it with you." In tourist communities, hospitality becomes the responsibility of all front-line workers who meet tourists face to face as well as "backstage" residents who support tourism. Police, service station attendants, lodging employees, restaurant personnel, shop owners, attractions managers, and the residents who provide directions, assistance, or just a welcoming smile all have an important hospitality role to play. Those communities that have been most successful with tourism have recognized the importance of hospitality, and have launched community-wide educational and public relations programs to encourage citizens to be informed and friendly natives.
Quality and Value: The above discussion explains the relationship between markets and destinations, yet there are also economic factors influencing an individual's decision to travel. For example, the perceived value or price/quality relationship of travel decisions is critical to completing travel transactions. Paris, France may be alluring to many Americans who wish to escape to the charm and excitement of Parisian nightlife, but few possess resources to complete the travel transaction. This price/quality relationship is also relevant to the tourism providers in Paris, Texas who must examine the price/quality relationship of their markets and their tourism product. The question always remains, are the opportunity costs and actual expenditures lesser or greater than the perceived benefits? The impact of opportunity costs in this equation should not be underestimated. Travel time, competing activities, and other responsibilities weigh heavily on any travel decision. This phenomenon is particularly true in societies that is increasingly harried and time conscious.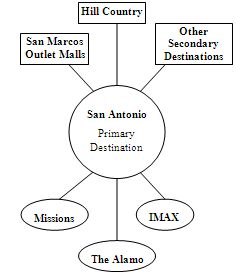 While every destination depends on attractions, services, environmental quality and hospitality, destinations can in the broadest sense be classified in one of two ways, primary or secondary.
Primary Destinations: are those that have sufficient strength in the mix of attractions and services to justify the "trip" (see Figure 2). They are capable of attracting and meeting the needs of tourists for the majority of their trip.
Secondary Destinations
: meet the needs of tourist in one of two ways:
a) They may be capable of attracting travelers for a side visit as they are on their way to or from a primary destination.
b) They may be a necessary stop on the way to or from a primary destination. At these kinds of destinations the services that are available meals gas, accommodations, etc. become the attractions. These destinations are called travel nodes.
Destination areas can be primary destinations for one travel market segment and secondary destinations for other markets.

Calvert, Texas, for example, is both a primary destination for antique shoppers and a secondary destination for those traveling en route between Houston and Dallas.

Each type of destination, primary or secondary, has its own inherent opportunities for tourism development.
From the traveler's point of view, your community is not just a place¾it is a setting in which tourists can have certain experiences and have their needs and wants satisfied. The attractions, services, environmental conditions, and hospitality within your community shape these experiences. They represent your community's unique tourism product. The more opportunity for different experiences available within your community, the greater it's potential for tourism. For this reason, many communities team up with other communities nearby in a regional tourism destination approach.
Remember that the key to understanding what your community has that tourists want is to see it through their eyes. As an old marketing adage (modified for tourism) suggests:
"To sell Jill Jones what Jill Jones buys you've got to see your destination through Jill Jones' eyes."


By now we have come to understand three important topics:
1. The market-destination principle.
2. What pushes (motivates) people to travel¾how different motives help to understand different travel markets.
3. What pulls people to destinations and provides them with a satisfying visit while there.
This section looks at the two ways that markets and destinations are linked through transportation and communications. These linkages between markets and destinations complete the functional tourism system.
In the tourism system, each element (markets, destinations, transportation, communications) is dependent upon the others. The system is like a spider's web¾touch one part of it and reverberations will be felt throughout. The following describes transportation and communication linkages between markets and destinations.
Transportation
Transportation physically links markets with destinations. Automobile, bus, air, and rail are all important modes of travel. The convenience, safety, reliability, speed, comfort, and price of transportation are important to travelers. Changes in any one of these factors can greatly influence the flow of markets to destinations. Transportation is the one part of the tourism system that seems to be particularly volatile in current times. Changing fuel prices, airline and bus deregulation, and a growing senior market that enjoys coach travel are all trends that affect transportation.
Communication
Communication refers to the flow of information between markets and destinations... between the consumers (travelers) and the suppliers of the tourism experience. This flow occurs in two directions: 1) from destinations to markets (called promotion); and 2) from markets back to destination (called market research). This two-way flow of information is essential to the link between markets and destinations.
Promotion
Many people think of promotion only as brochures and other forms of advertisement. Promotion actually refers to a mix of six primary activities that help to convey information and images about a destination. Each of the six activities of the promotion mix can be used alone, or in combination by a destination to communicate with the travel markets they want to attract. These activities include:
1.Advertising: any paid form of non-personal presentation about a destination that is communicated through mass media. Leaflets, brochures, newspaper/magazine ads, direct mail, and billboards are forms of advertising.
2.Personal Selling: direct person-to-person communication regarding a destination. Community members in direct contact with tourists daily can recommend places to eat, sleep, and visit, which is personal selling.
3.Publicity: non-personal favorable communications in print or broadcast media that appears in news story form. While many destinations groups and suppliers hope that travel writers will provide favorable publicity, others are proactive in working with writers already producing favorable publicity.
4.Incentives: items having financial value that are offered to encourage markets to travel to destinations. Weekend discount rates at hotels, family discounts at attractions, free meals, and two-for-one specials are all incentives designed to encourage travel.
5.Programming refers to the ways that attractions, services, and the atmosphere of a destination are tied together to convey a unique and attractive image that will encourage visitor interest. For example, communities have grouped their tourism attractions, services, and atmosphere to convey "Old West" adventure or botanical themes. Proper programming assures that "on-site" visitor information needs are met within the community. Signage, maps, and guides all help to program and promote destinations.
6.Packaging: the presentation of products and services that would normally be purchased one at a time. In a package, multiple products are offered at a single price. A motor coach tour is an example.
Marketing Research
Marketing research allows consumers to communicate back to managers of destinations. Simply stated, marketing research means finding out about your markets' characteristics, needs and wants. In the broadest sense, all communities have two markets: existing markets (those people who already visit the destination) and potential markets (those people who might be encouraged to visit in the future). For most communities, the greatest opportunities for tourism development are found in existing markets (more will be said about this in Section IV). For this reason, communities should learn as much as they can about these very important visitors.
There are many ways to conduct marketing research, some more technical than others, but all communities can gather information and feedback from existing tourists in a systematic, simple way15. Inquiries regarding where visitors are from and how they enjoyed their stay will provide valuable information that will help your community to effectively manage the complete tourism system.
Information gathering techniques that can be used on a regular basis include:
• registration/reservation records at lodging businesses and welcome centers to provide market origin data, visitor profiling, and a basis for sampling
• completed questionnaires on market demographics, service satisfaction, travel habits, and so on
• complaint records and comment cards
• coupon returns and inquiries generated by advertising
• license plate surveys and car counts
• admission records at attractions
Who Is Responsible For The Tourism System?
Figure 3 on the following page illustrates the Functioning Tourism System. From the supply side, many commercial, public, and non-profit decision-makers are responsible for the attractions, services, and other elements of the tourism system. When we speak of a tourism industry, the statement is only partially true. The tourism system is not managed solely by the commercial sector as the word industry implies. Instead, commercial, public, and non-profit sectors all work together to provide the important elements of the tourism system. Table 1 on page 23 illustrates the range of involvement on the part of each of these sectors. While each of these sectors may have their own reasons for involvement in tourism, the best overall results are achieved when they recognize and work together to achieve common tourism development goals. This is the community approach to tourism development.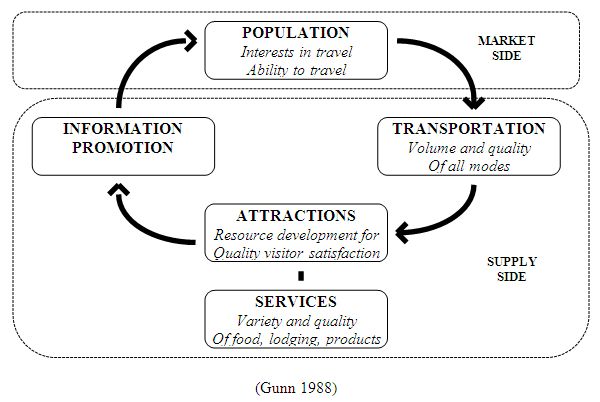 Figure 3. The Functioning Tourism System.
Table 1. Sector Involvement in the Tourism System
Commercial

Public

Non-Profit

Attractions

theme parks, wave pools, theaters, bowling, shopping malls, plant tours, entertainment, sports events, craft shops

parks, lakes, playgrounds, zoos, outdoor theaters, recreation areas, museums, historic sites

performing arts, museums, historic sites, home tours, botanical gardens, festivals, theaters

Services

hotels, motels, restaurants, shops, private tours, taxis

local bus transportation, visitor information, medical, police and fire protection

guided tours, museum shops, tea rooms, artist cooperatives

Atmosphere

Environmental Quality

downtown revitalization, pride of ownership, attractiveness

parks, roads, access, parking, waste disposal, beach clean-up, signage

garden displays, community beautification, historic preservation

Hospitality

employee training

public awareness education

employee and volunteer training

Transportation

scheduled bus lines, taxis, rental cars, airlines, trains, car servicing, gas stations, rental boats

ferries, airports, public transportation systems

shuttle buses

Communication

Promotion

guidebooks, maps, atlases, radio, brochures, billboards, directories, magazines, television ads, advertising, incentives, publicity, public relations

signage,

information centers, community maps and brochures, advertising, incentive, publicity, public relations

brochures, information centers, maps, guide books, advertising, incentive, publicity, public relations

Marketing Research

restaurant surveys, ticket counts, license plate checks, visitor satisfaction surveys, sales

surveys, image studies, attendance records, visitor center records

suggestion boxes, ticket counts
Conditions For Effective Tourism Development
As we have seen, tourism is a system of interrelated parts that includes attractions, services, transportation, communications, and markets. While each of these parts influences all others, certain conditions must be met before the system can operate smoothly and effectively for a given destination area. These conditions are:
• identification of market niche
• regional cooperation
• community support
• financial support
• leadership and organization
• tourism networking
Identification of Market Niche
Successful tourism depends upon a community's ability to identify its unique selling points and develop a special market niche (target market). This niche requires identifying and developing a major community theme around which one or more relatively unique tourism products can be developed. As we have already seen, tourism products are like a basket of goods for visitors to experience. The more coordinated the items within the basket, the more effective it will be. Themes such as "the old west", "family fun," or "history and culture" provide this coordination by creating a tourism image for your community and positioning it in the minds of potential and existing tourists. Texas communities have found themes in both natural and cultural resources. For example, some communities that have strong ties to the production of an agricultural or industrial product have used that uniqueness as a focal point. Often these themes lead to the development of slogans used in promoting the area.
Before your community begins to plan for tourism it needs to identify existing tourism products and potential opportunities in the surrounding region and the State of Texas as a whole. The opportunity to develop one-of-a-kind community tourism products based upon the special assets of your community is at the heart of successful tourism.
Regional Cooperation
Sound community tourism development is built upon cooperation not competition among closely situated communities. Even communities that are recognized tourism sites benefit by linking up their attractions, facilities, and services with those of nearby communities. This linking up is called clustering. Clustering occurs when closely situated communities complement each other, with each providing different kinds of amenities for tourists and different facilities that support regional tourism activities.

At first glance, clustering may seem to interfere with a community's ability to establish its own market niche. The opposite is true however. Clustering depends upon each community's ability to make a unique contribution to the whole region, that is, the overall tourism image and product. In this way, clustering creates a critical mass of attractions and services that can attract more tourists and keeps them longer than any one community could alone accomplish. Regional cooperation is a condition of effective tourism because as the public becomes more discriminating and mobile, they will more likely demand a wider range of quality attractions and amenities before embarking on a trip.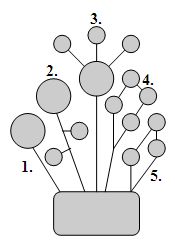 Figure 4. Geographic Pattern of Destinations
One kind of regional interdependency that is particularly important to smaller communities may be termed the big city-small city relationship. Certainly, larger cities with different forms of transportation access attractions and services are capable of generating a larger mass of tourism development. There is no question about the major cities (Dallas/Fort Worth, Austin, San Antonio, Corpus Christi, Houston/Galveston, and El Paso) being attractive primary destinations on their own.
However, smaller cities accessible from large cities have an important regional interdependency that can enhance tourism for both. Instead of being negatively competitive, a large city and smaller cities, within reasonable access, can be very helpful to each other by offering a wider range of benefits to market segments. The larger city can expand its tourism influence by including visits outside its boundaries. Smaller cities can become important secondary destinations within the large city region, thereby strengthening both cities¾a mutual benefit.
All communities, large and small, benefit when tourism increases in their region. Recognizing this, many have joined together in cooperative efforts to identify and promote regional tourism opportunities and themes. Cooperative efforts have included: scheduling arrangements to ensure that timing of community special events complement rather than conflict; joint funding of tourism brochures; coop-advertising; and cross-selling. Cross selling occurs when residents of one community recommend the attractions, services, or facilities of another in an effort to keep visitors within the region.
For example, visitors that have spent the day at a special event in one community may be directed to a unique restaurant in the neighboring town.
Many communities concerned with tourism have found that these and other cooperative efforts are best achieved through the formation of a regional tourism association. Currently quite a few such associations exist in Texas. Information regarding these can be found in the companion publication, Sources of Assistance for Tourism in Texas. Perhaps more than anything else, these associations offer opportunities for networking, that is, for meeting and sharing ideas with others equally concerned with tourism's community and regional role.
Community Support
We have already discussed the importance of hospitality to the atmosphere of a community and, hence, its tourism product. This hospitality does not automatically occur. It is the result of widespread community support for tourism, and training like that found in the Texas Hospitality program16. This community support, in turn, is the result of awareness concerning what tourism can and cannot do for a community and the changes it will inevitably cause. Community support for tourism endeavors can be built by involving local communities in the tourism planning process. Community leaders must be in agreement as to the direction and the degree of change, which results from the expanded tourism base. Community leaders who make up a tourism task force should represent those businesses and activities, which provide services and products for tourists.
The transformation of a community into a tourism destination requires good public relations and educational programs within the community. These public relations efforts will prevent rumors and will encourage civic involvement and spirit. Public issues that may unnecessarily polarize the community should be recognized from the start. These issues may center around social, economic or environmental costs, and benefits of tourism. For example, a community may choose not to approve higher taxes to support a larger police force, improved water supply, or adequate waste disposal in an effort to develop tourism. Another community may enact ordinances to protect historic sites from overuse by tourists. The community may choose to zone for land use that favors development of new businesses or the protection of natural areas.
Tourism can be of great benefit to communities but these benefits are not received without change. Educational seminars, open forums, and public relations efforts should provide all sectors of a community with an understanding of tourism's benefits and costs. Political, environmental, religious, cultural, ethnic, and other groups within an area can make or break the development of tourism. Their interests must be considered and their support secured. Methods and processes for involving residents and other stakeholders are described in Section IV under visioning and strategic planning.
Financial Support
All tourism development will require financial investment. In cases where development or improvement of a community's physical resources is necessary, capital costs may be substantial. In cases where the development of promotional and program resources is the focus, fewer financial resources may be required. Financial resources for projects that assist with tourism come from many sources, such as private foundations, development funds, grants-in-aid, hotel/motel taxes, special fund-raising events, bonds, lending institutions, and private investors.
The ability of investors and financial institutions to understand and support tourism is paramount to its success. Unfortunately, tourism as a form of economic development is often difficult to visualize. Because tourism does not represent a single economic activity but a compilation of many (attractions, transportation, entertainment, retail, lodging) it is often difficult to define just what is being financed for tourism. Furthermore, tourism related many financiers as high risk see investments. Seasonality and lack of accurate feasibility information on tourist facilities contribute to this low confidence. Nevertheless, statistics suggest that tourism is a particularly resilient economic activity even during periods of economic recession. In fact in 1986, when Texas' gross state product declined, travel expenditures grew. Additionally, in the 1990's the growth for tourism related jobs has outpaced that of every other industry.
Tourism development dreams cost money. Visions of tourism grandeur must be tempered with the realization that money must be available to complete the first projects before tourists arrive. For most communities, incremental growth that builds one success upon another is the best way to develop a comprehensive tourism program.
Leadership
Competent, motivated leadership is the key to shaping human, physical, and financial resources into a coordinated tourism development strategy. No matter how available the attractions, services, facilities, or finances are, no tourism program successfully reaches its potential without sound leadership. Remember too, tourism must be incorporated into the overall plan of the community.
Who provides tourism leadership? In many communities, tourism development efforts are initially led by an existing organization, an arm of the chamber of commerce, an economic development group, a convention and visitor bureau, a hotel/motel, restaurant, or retail association. The support of organizations that are already serving visitors is essential since they already have a great deal of "hands on" expertise. Whether one of these organizations assumes leadership or not, their participation should be guaranteed before tourism development efforts start. In the same way, tourism should not be planned separate from other community development efforts.
Entrepreneurs who can visualize opportunity, and capitalize on it, also provide tourism leadership, particularly for the commercial sector. Many tourism development plans never materialize because the right people do not take advantage of the opportunities. The ability to identify tourist's needs, obtain the right location and site, engage designers to create the appropriate structure, and gather together the right human resources to manage the investment is a special kind of leadership, and one that is essential to tourism development. The public sector can encourage entrepreneurial leadership by providing a favorable regulatory climate for launching ideas into action.
Whatever the source of leadership, an organization, or a group of entrepreneurs, that leadership must consider diverse public support in its efforts to initiate and sustain community interests. Tourism is indeed a community affair. As the scope of tourism development efforts broadens, leadership must also expand to reflect the many community "stakeholders" who contribute to the tourism product. Because of the vital role of leadership to any successful tourism development effort, Section IV will provide suggestions for creating a tourism task force that advances tourism interests and action plans at local and regional levels. Now that you understand what tourism is all about, it's time to examine if it is indeed your community's best economic development alternative.
Tourism Networking
Sound tourism leadership depends upon networking. Networking means linking up with other "stakeholders" involved with tourism to coordinate efforts, share ideas and approaches, and learn from the experience and perspectives of others. Networking is vital to effective tourism development and should occur at all levels: community, regional, state, and national/international. When there are two or more parties working for tourism, networking can and should occur.
Community Networking
Networking is important from an individual, enterprise, and agency perspective. We have already seen the variety of commercial, public, and non-profit stakeholders involved with the delivery of tourism opportunities within a single community. Local traffic, health, and police departments can develop better policies and operate more effectively if they coordinate with lodging, food service, entertainment, and other tourism commercial interests. Developers and entrepreneurs can produce better visitor services if their relationships with political governmental agencies are proactive rather than reactive. Business activities that are well integrated with other elements of the tourism system (attractions, services, and transportation) can be better promoted. Every tourist business, every non-profit group, and every public agency involved with tourism can benefit, and can help tourism within the community benefit by networking with all other community interests.
Regional Networking
We have discussed the importance of regional cooperation to tourism development efforts. This cooperation requires combining promotion efforts, exchanging ideas and sharing expertise. How can you begin networking within your region? If your community falls within the sphere of influence of a larger destination (a major primary destination) you can begin by contacting the chamber of commerce or convention and visitors bureau there. Those working in tourism in major primary destinations recognize the importance of their surrounding communities and are often eager to provide technical assistance and advice. Regionally, many communities are recognizing their collective wisdom and strengths and are establishing regional associations. Some of these associations sponsor newsletters and meetings to facilitate the networking process. There are a number of regional tourism associations in Texas (addresses and contacts are listed in the companion document to this publication, Sources of Assistance for Tourism in Texas).
Statewide Networking
On the state level there are a number of public agencies and non-profit agencies that can provide technical assistance and advice relevant to tourism. Several government agencies are primarily responsible for tourism marketing statewide.
Texas Department of Economic Development, Division of Tourism: is dedicated to promoting Texas in the national and international tourism areas. The Tourism Division works with public and private sectors to increase cooperative relationships to expand tourism in Texas. The Texas Department of Economic Development developed the theme: Texas. It's Like a Whole Other Country. ® The Tourism Division is responsible for marketing, research and tourism development, and travel trade of Texas.
Texas Department of Economic Development, Trade and Investment Division: is dedicated to overseeing programs aimed at retaining and expanding the state's existing business and industrial base while marketing Texas globally as an ideal spot for locating or expanding a company. The primary objective's of the Trade and Investment Division is to increase marketing efforts with an emphasis on international opportunities; to position the agency as a clearinghouse of economic development information for all Texas communities and businesses; to make Texas business globally competitive through improved technology, worker training, and accompanying capital investment, and to increase economic opportunity for small communities.
Texas Department of Transportation, Travel And Information Division: operates the 12 Travel Information Centers at major entrances to Texas, as well as it publishes and/or disseminates literature including Texas Highways and the Texas State Travel Guide. The department also answers the 1-800 information number supplying information about points of interest and road conditions.
Texas Parks And Wildlife Department: is the primary state agency charged by the legislature to provide visitors and Texans with opportunities to experience Texas' natural and cultural resources by operating and maintaining a system of State parks and State Wildlife Management Areas; monitoring, preserving, and enhancing the quality of lakes, rivers, streams, public and private lands, coastal marshes, bays, beaches, and Gulf waters; and assisting public and private entities in providing quality outdoor recreational opportunities.
Texas Historical Commission: is the official state agency for historic preservation, encouraging the restoration and development of landmarks, historic structures, archaeological sites, and museum collections so visitors may experience the unique heritage of Texas. The agency administers a historical marker program; coordinates the work of local heritage organizations; and coordinates the Texas Main Street Program.
Many public and private non-profit associations such as the Texas Travel Industry Association, Texas Festivals & Events Association, Texas Nature Tourism Association and Texas Travel Research Association are integral players in the state tourism network. Additionally, there are several Texas licensing/regulatory agencies that are empowered to issue permits or licenses, or to impose standards for the operation of a particular area of jurisdiction. A listing of these associations and agencies is also provided in the Sources of Assistance for Tourism in Texas publication.
National and International Networking
Seemingly far-removed from the community level are those organizations with national and international level tourism interests. However, these organizations often represent the headquarters-office for a number of national/international professional and trade associations. Here, a wealth of industry-specific statistics is collected on a national level by associations and research organizations. The resulting publications, which present such information, are useful in describing market information and trends, and in providing directories of members; which are useful in facilitating additional networking. National organizations are also effective clearinghouses for information about a specific segment of the tourism industry and in promoting the cause of its membership and their interests. Members are frequently offered educational programs and conferences, which help to maintain and upgrade their professionalism.
Networking At Any Level
Community, regional, state, national and international networking requires cooperation in tourism planning, development, and marketing efforts. This cooperation leads to stronger tourism leadership throughout the many communities and regions of Texas and consequently, benefits all.
---